Create Amazing World Map Posters in a Few Clicks

by Maria Johnson

5 Minutes
2022-07-27
Our world is vast and full of unique, wonderful places. And world map posters are the perfect way to remember the cities and streets where you've lived, the journeys you've taken and the dreams you've had. Best of all, they can make your living space more attractive too!
In this article we'll introduce several amazing design choices for Grafomap world map posters. Whichever you choose, they can make your home look better, bring back memories from past trips, or just inspire you to dream of that future trip of a lifetime!
Three Ways to Design a Custom World Map
#1 Whole Continent
A map of the whole world can sometimes be a little TOO imposing. So if you're looking for something a bit more modest but still very striking, why not go for a continent map? It will give a room a bit of gravitas without making it feel like a geography classroom.
You can design a custom continent map at Grafomap by simply choosing any city located on that continent, typing its name into the search box and then zooming out to get the perfect framing.
#2 Country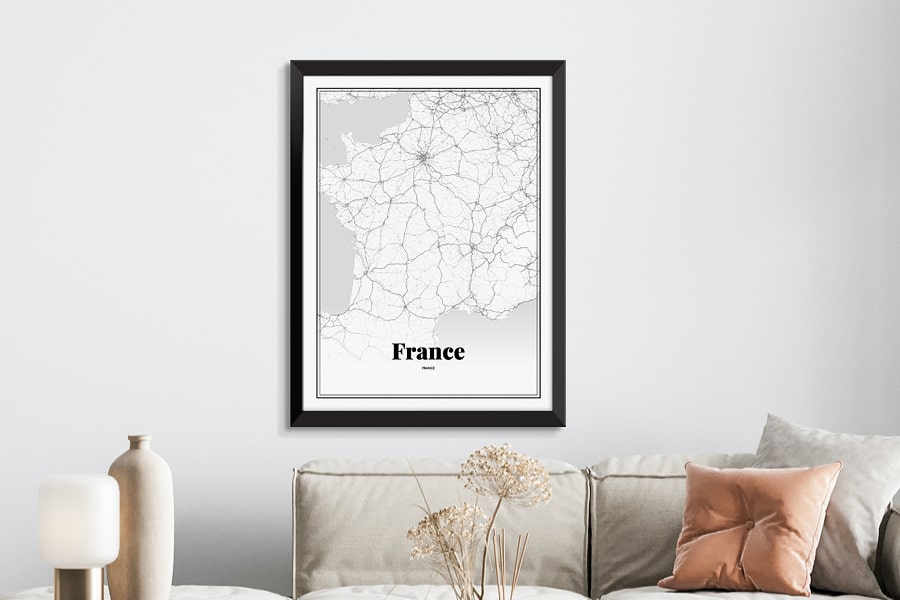 Another option is designing a personalized country map, focusing on the beautiful outline of a country that's close to your heart. This option works best for countries with long coastlines – the contrast between land and sea is sure to look impressive whichever design scheme you choose.
#3 City
The best part about custom city maps is that you can select almost any location in your chosen city: historic centers of course, but also residential neighborhoods, parks, seafronts, whatever takes your fancy. For example, if you've run a marathon you can print a map showing the route – and hang it on the wall as a permanent reminder of your achievement.
3 Quirky Ways to Personalize a Custom Map
Personalized maps are meant to serve as interior decor elements, while funny maps are usually just amusing pictures that you can share online. A custom map won't get on your nerves with garish colors and tacky captions – it's a refined home decoration that will bring joy to your household for years to come!
Add a Heartfelt Message to Your Map
Our customization system lets you add text to your print – just click the "on/off" button in the Labels & Markers section. The system will add your location's name by default, but you can change this to any personalized message. How about lines from a poem, lyrics from a song, or just the dates of a special vacation?
Mark your Map with Pushpins
If you want to add physical markers of specific locations on your map, pushpins are the perfect choice. Note that you'll need a map with a soft surface (photo paper or canvas for example) to add pins. If you don't want to damage your print, or if your map has a hard surface, you can use small sticky notes instead of pins.
Design a Travel-Themed Gallery Wall
​
If you've got a large empty wall at home, why not create a full gallery wall dedicated to your travels? Mix up custom maps with postcards, framed photos and other personal treasures brought from your trips to create a truly head-turning ensemble!
Custom Map Posters – Something for Everyone
You don't have to be a seasoned traveler to appreciate the romance of maps. With Grafomap custom maps you can bring back happy memories…or dream of future travels! Whatever your map means to you, a personalized map print will be a beautiful addition to your home decor.