What to Put on the Wall Above Your Bed

by Maria Johnson

5 Minutes
2022-08-08
What to put on the wall above the bed is the most common question for people who have just renovated their house and want to make their bedroom cozier.
Imagine that you've just renovated your house, with the bedroom your main priority. You've bought new bedroom furniture, had the walls repainted, but you still feel like it's a little…vanilla? The large empty wall area above your bed could be the reason. Adding a pop of character to that bare space can transform a room's atmosphere.
These days wall art options are nearly limitless – and one of the biggest trends is using decor elements to tell a personal story. You can do it easily with the help of custom maps and other personalized prints. Let's explore what makes them so special and why they're a great addition to any bedroom!
Use Personal Photos as Bedroom Wall Decor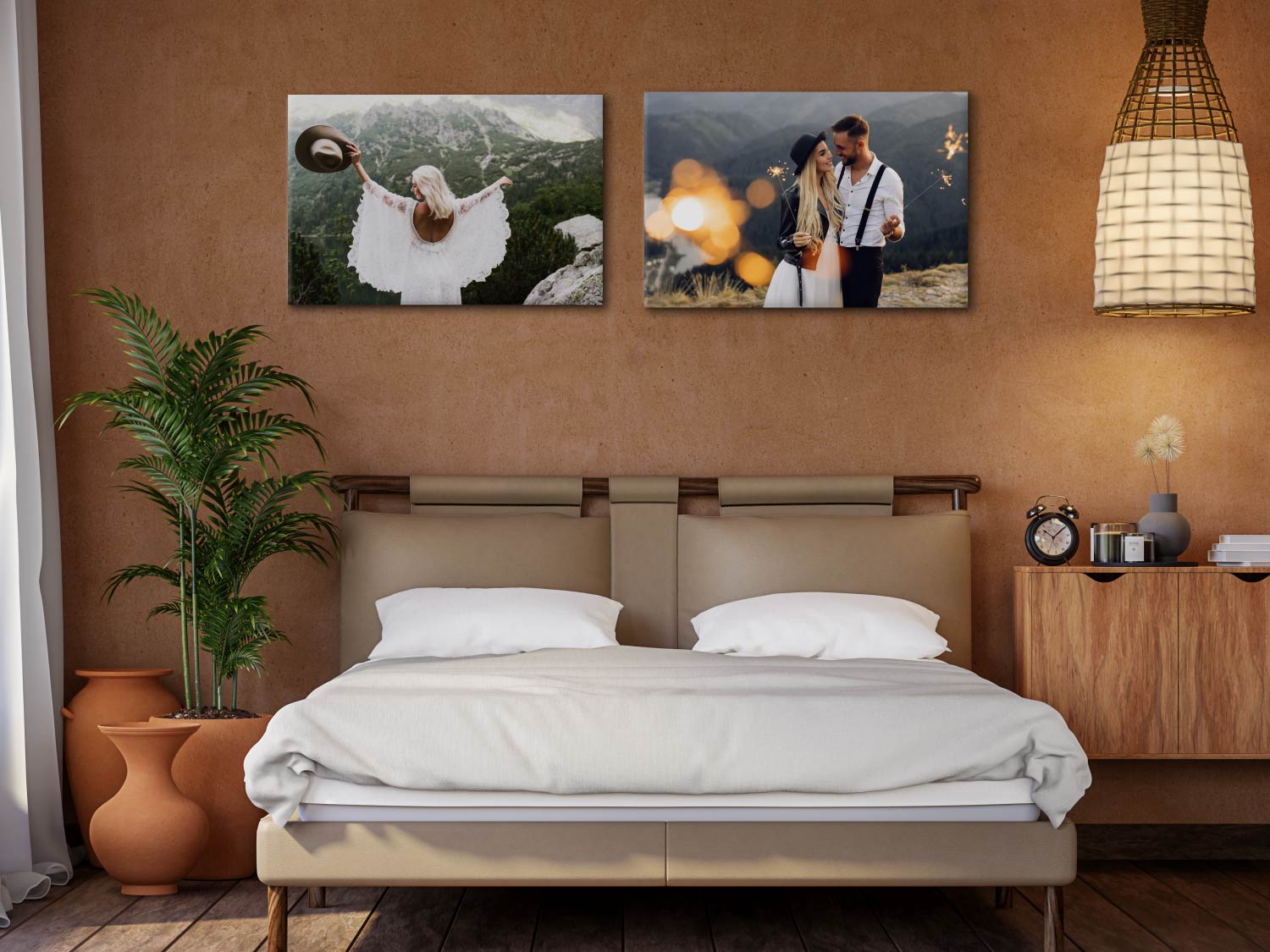 We all have some great photos that capture the most memorable, emotional moments of our lives. Personal photos tell stories better than words – so if you're looking for original, meaningful bedroom decor, start by browsing the photo folders on your hard disk.
Hang A Single Custom Map
Custom maps are the next big thing in interior design – and you don't have to be a seasoned traveler to hang a map of your favorite vacation spot on the wall above your bed!
In fact at Grafomap you can print any map area you want, from a whole continent to a specific city district – perfect if you want to celebrate your parents' home, the place you spent your college years, your honeymoon resort, or even the place you had your first date with the love of your life. Design a custom map and you'll be able to relive those wonderful memories every day!
Display A Collection of Custom Maps
A single small map could look a bit lost on an otherwise bare wall, especially if you're lucky enough to have a spacious bedroom. There are two things you can do to fill that awkward space – either go big and order an extra-large map or fill the wall above your bed with a number of medium-sized prints.
If you opt for several maps, bear in mind that they should be coherent in style and color range. You can explore all the Grafomap designs in our online map configurator – we have 11 design schemes that will work for classic, romantic, vintage, rustic and even industrial interiors. Remember that your paired maps don't have to be completely identical, but it's a good idea to keep them the same size to maintain a sense of symmetry.
Create a Gallery Wall
If you're an experienced photographer, chances are your digital storage is full of great shots. Even us beginners can build up an impressive photo archive over the years! The more photos you have, the more difficult it is to select just a few to go on the walls – so how about designing a whole gallery wall that can be expanded over time?
​
You can mix and match all types of wall decor in a gallery wall – photo prints, custom maps, posters, postcards and any other little treasures that can be fixed to a vertical surface. The headboard wall is the ideal background for your personal photo exhibition – it's a private space where you can really demonstrate who you are and showcase the things you love.
Last Word on Bedroom Wall Decor
Once you start decorating with custom prints, you might not want to stop – and if you love discovering new places, you'll need more than just one wall above the bed to show your love of travelling. Here at Grafomap we're ready to help you design beautiful maps of the most special places – explore our product range and decorate your home in style!